FLORENCE — Summer is no time for vacation for the volunteers at The Manna House, a food pantry that serves meals to those in need in east Florence.
The workers chatted happily on the Monday before the Fourth of July as they crisscrossed the small cafeteria-style space on Jarrott Street, portioning out squash and sandwiches and cutting leftover cakes from Food Lion.
While they didn't begrudge the work, they all said they need more help, both financial and physical, to meet increasing demand.
"I would love to be able to lock these doors and walk away from it and never need it, but we know that's not the case," said Melinda Waddell, who took over as executive director in May.
In the first quarter of the year, The Manna House averaged 50 people for breakfast and 100 for lunch each day. Since April, those numbers have increased to 70 for breakfast and 140 for lunch, Waddell said.
At the beginning of the year, the federal government eliminated emergency allotments for the Supplemental Nutrition Assistance Program put in place during the COVID-19 pandemic. On average, SNAP recipients lost almost $100 a month in benefits, and Waddell attributes much of the recent increase in demand for The Manna House's services to the sudden loss in benefits.
Summer also is a notoriously difficult time for food pantries, Waddell said. It's harder to get volunteers with people traveling and service groups on hiatus. And with kids out for the summer— lacking the built-in meals provided by schools— there's more pressure on families to provide food.
"The average person just truly does not realize when school's out the increase of hunger" there is, Waddell said.
The Manna House serves breakfast and lunch Monday through Friday, delivers meals to more than 100 homebound seniors and veterans and offers a food pantry from 9 to 11 a.m. The organization is an oasis in east Florence, a low-income neighborhood that sits in the middle of a food desert.
Families that qualify for help can come to the pantry once a month, while members of the homeless community can come in every two weeks. In June, The Manna House served 605 families. More than 100 were homeless, Waddell said.
In addition to bags of food from the pantry, The Manna House also serves hot meals. On the Monday before the Fourth of July, the volunteers served corn, french fries and hot dogs for lunch.
While the carb-heavy meal didn't meet Waddell's nutrition standards, she said, she decided to ease up a little in honor of the holiday.
"I try to be cognizant of the fact that they're getting nothing good," she said of the people who rely on The Manna House for meals. "So, at least what I'm trying to give them is something to help keep their body chemistry right."
The food used in the meals comes from the community. Local grocery stores pitch in supplies regularly, community donations arrive unannounced at the back door and at least one local farmer provides their excess produce, Waddell said.
While Waddell said she appreciates the intent of those who bring candy or leftover food from a catering event, what she really needs are pantry staples — in particular peanut butter, jelly, canned tuna, canned chicken, and bottled water.
Water is Waddell's No. 1 expense. In a week, the pantry will go through around 1,000 bottles, she said.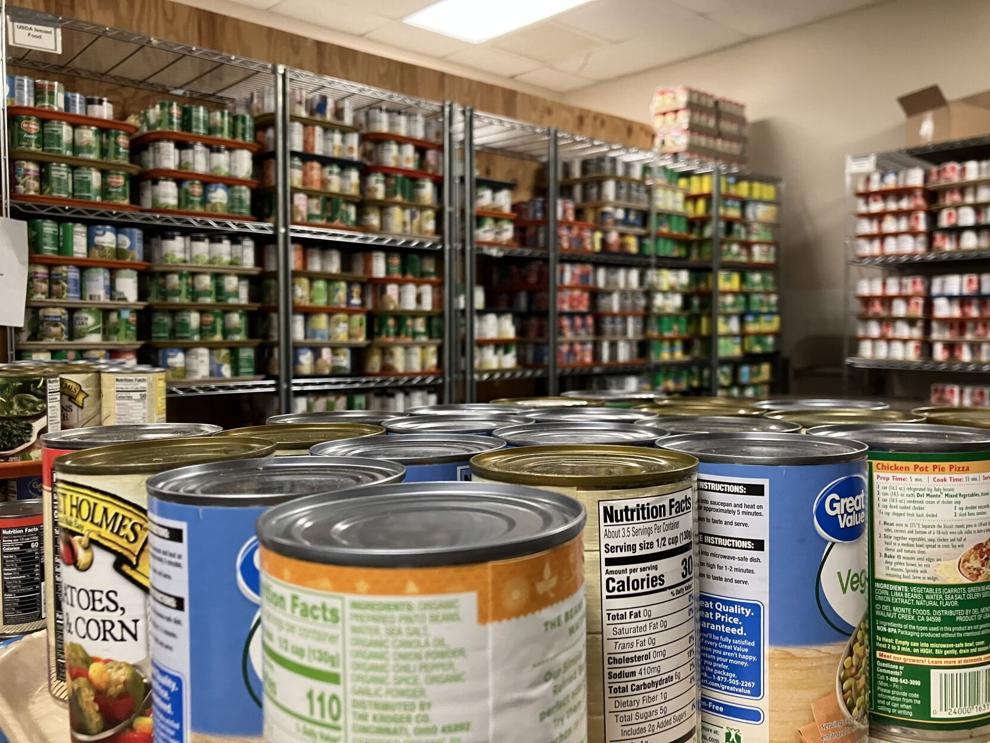 The Manna House has just five dedicated volunteers — three of whom are new. It's not nearly enough, Waddell said. She needs at least another five, and potentially more for the pantry to expand to continue meeting demand.
Cameron Bridges is one of Waddell's new recruits. He recently moved back to Florence from Washington, D.C,. where he worked in professional kitchens. The Manna House is a nice change of pace from the Italian, French and New American restaurants he used to work in, he said.
"I like this more than making little drawings with puree on a plate," Bridges said, adding "It's a lot more rewarding."
John Mobley has been without a home for more than 10 years now, living in east Florence. Standing in the slim shade offered by the Manna House awning, he said he comes to the pantry often, relying on it and New Ebenezer Baptist Church for food.
"It means a lot, man, because my pride get in my way sometimes," Mobley said. That means he has resorted to doing things he now feels bad about in order to get what he needs to survive. The Manna House offers him an alternative.
"I know I'm better than this," he said, gesturing broadly. "People who know me, they know this is not me. I know this ain't me."
Waddell said that's what drives her. After working a long career providing food for those in need, she retired and began volunteering at The Manna House. Now just the third executive director in the more than 40-year history of the organization, she considers the position her retirement job.
"My passion comes from, if you don't have food, you can't survive. It's impossible. Food is medicine, food helps you feel better," she said. "And maybe a roof over your head and groceries is the only way that you're going to be a productive part of society."